Contact us
We pride ourselves on exceptional response time. Make your initial contact with these members of the ExecuServe team:

Lorraine Condyles, senior relocation consultant
Phone: 877-477-3896 (toll free) or 310-477-3896
FAX: 310-477-9086
E-mail: LorraineC@ExecuServeRelocation.com
Jim Brunet, executive director
Phone: 310-508-6878
FAX: 310-264-7109
E-mail: JimB@ExecuServeRelocation.com
For immediate assistance
If you have an employee/candidate in need of service — or you'd like an in-person presentation from ExecuServe — please provide some basic information:

RE/MAX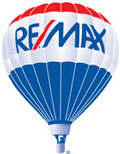 The RE/MAX balloon logo is one of the ten most recognized logos in the world. For us, that red, white, and blue balloon symbolizes high expectations and high standards.
The RE/MAX network of real estate professionals, both here in California and across the country, is a great asset to us. The average California real estate agent has 6 years of experience. In contrast, the average RE/MAX agent has 15 years of experience, embracing all sorts of market conditions.
ExecuServe serves as the Relocation Division of RE/MAX Execs. ExecuServ's network of agent referrals includes agents not employed by RE/MAX. In every case, agents are screened for experience, on-the-ground knowledge, professionalism, and "can do" attitude.